Man, when I get an idea in my head I have to run with it. That is exactly what I did.

I have a cute corner cupboard hutch that was here when we moved in. Since I have a soft spot for history, I couldn't bring myself to get rid of it. It belonged in this old farmhouse. So when I was on my "paint furniture a matte black and sand it" kick, that's exactly what I did.

It was originally in the kitchen. But we needed that corner for our wood stove.

For the most part, I had it in the keeping room. But then I thought it would look cute tucked in the corner of our living room.

Stella and Stanley do enjoy the ol' La-Z-Boy when Daddy's at work.




Just when I thought I had decluttered my home, ummmm... I look at this photo and realize I need to work on my decluttering skills.
((giggle))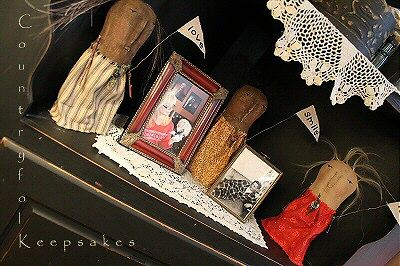 Then I was able to set up a very impractical little sitting area where the hutch was.




These are my two favorite photos of my Daddy when he was a little boy.
The large one was when he was a ring bearer in a wedding.
Just wanted to share.
♥




Happy Monday night!

:> )