About 8 years ago, I special ordered a Laz-Z-Boy Rocker/Glider/Recliner.
At the time I had a beautifully reupholstered vintage wing back Ethan Allen couch, so I wanted a wing back Rocker/Glider/Recliner to coordinated with it.

Since the couch fabric was off white, tomato red and moss green plaid, I thought I'd go with a tomato red fabric on the chair.

Well... After a few years of dogs, a husband and sitting near a window (have I mentioned a husband?!) ; my tomato red chair turned into this hideous, faded, dirty, pinkish-red "OMG what the heck was I thinking when I bought this" eyesore.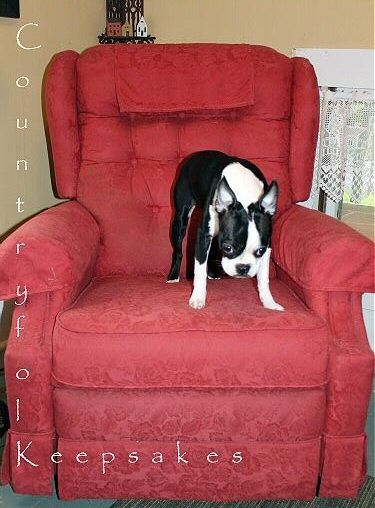 I was so embarrassed by it, it had to go. But this chair is so comfortable!! I really didn't want to get rid of it? Besides, who would want it??
So upstairs in the den it did go.

I looked into slipcovers, but no one makes them for wing back rocker/glider/recliners. Just for sh*ts and giggles I did purchase regular wing back chair slipcovers. Hoping they would somehow fit.
Let's just it was like cramming a Sumo wrestler into full body spandex unitard.

I have thought about having it reupholstered. But after dishing out a small fortune for Stella's vet bill on Sunday, and her upcoming spaying surgery the end of this month, my mad money stash has all but disappeared now.

The question is, do I tackle the reupholstering myself?!
Heck, I've always been one to fly by the seat of my pants when it comes to projects, but for some reason this project intimidates me.

Maybe it's because I have the attention span of a flea and don't think I could focus on it long enough to make it look right.

Has anyone out there tackled a project like this with no experience? Please feel free to throw in your two cents.

And don't be surprised if I swipe those two cents and throw it back in my mad money stash. ((giggle))

Happy Tuesday!

:> )