yet again.

The upstairs in this old farmhouse really needs some attention. We haven't done anything major since we moved in.

Maybe it's because I'm a little shell shocked from our last major upstairs remodel we did back in our first house. I had a contractor tear everything down to the studs. It was all lath and plaster too. If you have lath and plaster, you know exactly the nightmare I'm talking about. I was still finding and cleaning up plaster dust a year after the remodel.

This old farmhouse is also lath and plaster. Not only does that terrify me, the thought of what is behind these old lath and plaster walls terrifies me even more. I just about messed my drawers when my hubs tore down the drop ceiling in our living room and tiny dinosaur-like mouse skeletons (still intact) fell all around me.

So until I get the nerve up to do another major remodel, I decided to re-re-re-paint the hallway. This time I went with a wonderful color by Behr called "Cozy Cottage." It a light beige. Not too yellow, not too green and not too orange.

It's really hard to find a true beige but this one does the trick. Then I painted the trim a nice, clean white. I also painstakingly painted the spindles on the railing. Dear Lord!! Talk about needing the patience of Job for that job! Not only did it need 400 coats of primer, it needed about that same amount in paint.




Now that I look at these photos, I'm thinking I should have painted the posts white too and just left the railing the natural wood. Oh well. When I feel like applying 800 coats of primer and paint again, I'll consider it.

My next job will be to paint the old wood floors "Oat Straw." I love painted, old wood floors especially in bedrooms. They have a nice farmhousy/cottagy feel.

The whole time I painted, Stella was nothing but trouble. Who would have thought, right?
She got into everything.
She chews everything and anything. I spent more time chasing her down and removing stuff from her mouth than painting.

Here she is doing one of her favorite pastimes.
Chewing tags off of pillow cases.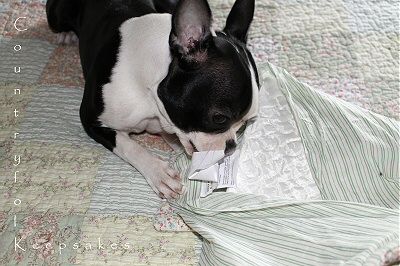 Happy Monday, everyone!
Wishing you all a productive week!

:> )