I listed my oak coffee table on Craigslist the other day.
Truthfully, I didn't expect to sell it, but I did.

I sold it so fast, I don't have another coffee table to replace it.
But I want something small instead of the "Cessna" I had parked in front of the couch.

With Stella in this crazed "Terrible Twos" stage (but she's not quite 10 months old) I need something on my braided rug. Otherwise she will yank, pull, tug at it even more. Have I mentioned I'm ready to kill her?!
**ahem**
Figuratively speaking, of course.
**cough**

So I have to make do with a make do coffee table.

Notice Miss Congeniality (Gracie) and Twinkle Toes (Stella) in the background.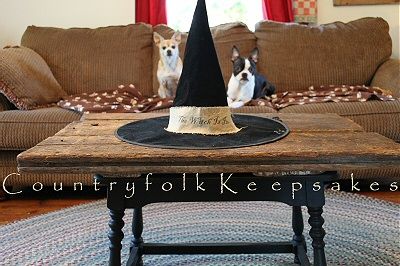 It's a small antique barn door from our dairy barn on top of a small tavern table.

Hey, don't laugh.
If it holds my coffee cup and keeps Twinkle Toes from gnawing on the rug, it's a perfect coffee table.

Happy Thursday!!

:> )