I know we're a few months off, but I'm feeling a little Halloweenie!!

I have a spooktacular offering and would love to give you a sneak peek. But unfortunately (for me) my sweet hubs updated my computer and I have no idea how to access my photo program. ACK!!

So I will patiently (who am I trying to kid) I will impatiently wait for my sweet hubs to get home so he can show me what the heck I have to do to get to my photos. Have I mentioned I do not like change?? True story. I dislike change with my gadgets.

So be sure to stop back later today.

Click on the logo below to go directly to my Early Work Mercantile selling page.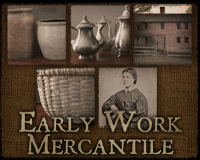 :> )