Well, it's been three and a half years since I "transformed" my kitchen countertop.

How has it held up??

Not bad. Not bad at all. Mind you, it's just my sweet hubs and I so not a whole heck of a lot of wear and tear going on.

I will say I never cut directly on the countertop and always used a cutting board and trivets. But my sweet hubs did cut directly on it once and when he did, he made a small slice in it. But after all this time the texture has lifted off slightly. Again, not bad at all. Especially for the price of the product.

There are some spots where it chipped off.




Some spots wore off along the seams.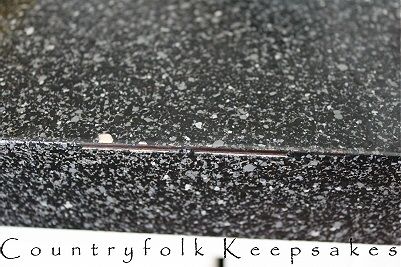 I was considering doing it again. But I'm also thinking about getting a new countertop instead. Like I've mentioned in the past it was a lot of hard work to transform the countertop and quite frankly I'm too old and too tired to do it again.

Granite, quartz and marble are the hot trends for countertops. But as lovely as they are, I'm not sure about them. Besides the obvious high price, I'm not a fan of shiny, glossy countertops. Yes they are gorgeous but our home is very much lived in. It would be covered in fingerprints and hand smears and that's not so gorgeous. ((giggle))
I love the look of a wood countertop. But I know I would spend my time worrying about any drop of water or liquid sitting on it. (I do that now with my free standing butcher block.)

I have seen some wonderful laminate countertops in Formica 180fx and Wilsonart HD. They've come a long way from our 80's laminate countertop. Truth be told, as dated and unattractive as our white countertop was, there were no chips or cracks in it.

Here's a blast from the past...




I ordered and received some laminate countertop samples and will share with you in my next post.

In the meantime, if anyone wants to put in their 2 cents about their countertops (pros and cons-laminate to quartz) please feel free to chime in. I'd truly appreciate your comments.



:> )