Besides the kitchen (heart of the home) being my favorite room in this old farmhouse, our Keeping Room is my second favorite space.

Because the room is small, has absolutely no wall space and a hearth and doorway threshold that takes up a lot of floor space, I have found it difficult to arrange what little furniture we have in there, to where it has the proper flow and feels cozy, too.

I swear I have wrestled the plaid settee everywhere possible expect for one spot. Here's the one spot.
It definitely feels more open.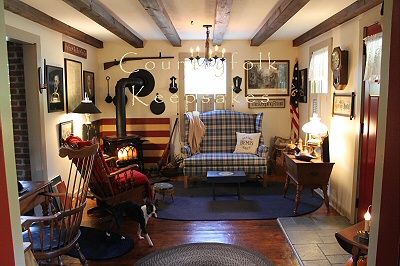 I decided to swapped out the small tavern coffee table for an even smaller primitive stool.

Since this is our Founding Fathers room, I was going to paint the colonial 13 circle of stars on top of it. But I already did that on the fire board surround behind the wood stove.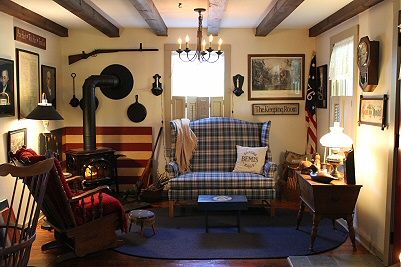 Then it hit me. I could decoupage The 1782 Great Seal of the United States on it. So I did just that.
Although I'm not happy with how I messed up the antiquing with the Mod Podge stuff. Oh well... Doo doo happens.

It still looks cool.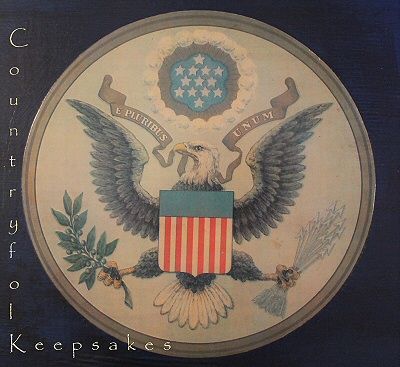 I do believe Stella is pleased with the new arrangement.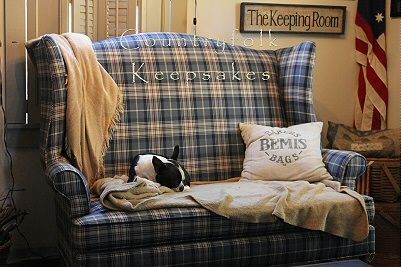 So now I wait for my sweet hubs to come home to see if he notices this one. He already thinks I'm loony with all the crazy things I do around the old homestead (while he's at work) anyway, so why not add another one to the loony pile.

I'm pretty sure he will notice. I'm also pretty sure he'll grab the big butterfly net.

But he's gotta catch me first.
((giggle))

Happy Monday, everyone.

:> )