I am happier than a tick on a hound dog!!!

Last week I mentioned we would need a larger corner hearth for our wood stove. After pricing them (holy schnikes!) I thought, heck why can't we save some pennies and make our own? As you would imagine, my hubs wasn't too thrilled with the idea.

So for sh*ts and giggles I thought I'd take a peek at a local business who carries wood stoves and accessories to see how much their hearths were.

Well... What are the chances of me walking into that business and finding someone had ordered and purchased (then decided they didn't need) a corner hearth... in the perfect charcoal gray color... in the larger size we needed/still in the box... AND the business was willing to knock off another 75 bucks?!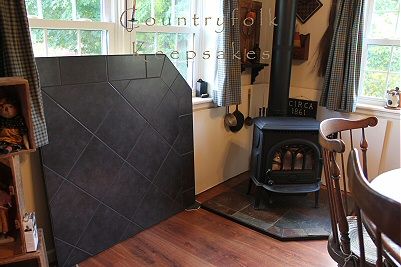 The chances were great that day! Yippee!
Quick! Somebody pinch me!!

Needless to say with a bargain like that, I was all over that hearth like a monkey on a cupcake.

After two young men wrestled it into my little Liberty and after my sweet hubs and I wrestled it into the house... we have a new and much larger hearth. Ooooh the girls are gonna be so happy! More room for them to sprawl out on.
Now it's just a matter of swapping out the old with new. Not sure how we're going to do that.
I better eats me more spinach.
Ack Ack Ack Ack Ack...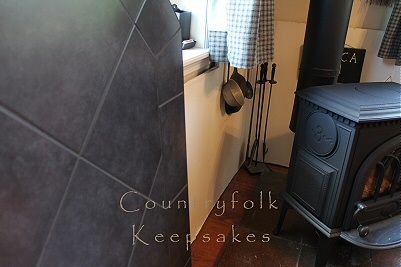 Happy Tuesday, everyone!!

:> )