It's no secret I absolutely love French doors!
When we moved in, the front door was a French door.
Although I must admit as beautiful as it looked, a very old, drafty French door isn't quite appropriate for a front door.
So when we replaced it, I was determined to use it somewhere else in the ol' Countryfolk homestead. The problem was the size. It was too large to use as an interior door. It needed to be cut down. I'm not one to shy from power tools, but I was hesitant for fear of ruining the beautiful old door.

After all these years its finally been cut down to size. My dear friend's sweet husband (Thank you, Dan!!) not only cut it down, he plugged the holes from the dead bolt and original knob placement as well. YIPPEE!!!!!!

They brought it back over the weekend. I still need to sand, prime and repaint it. But for now it is leaning near the doorway it will eventually hang.

Now... Who would put a French door in the main bathroom, you might ask??!!!
Ummm...
**waving my arms wildly**
that would be me!!!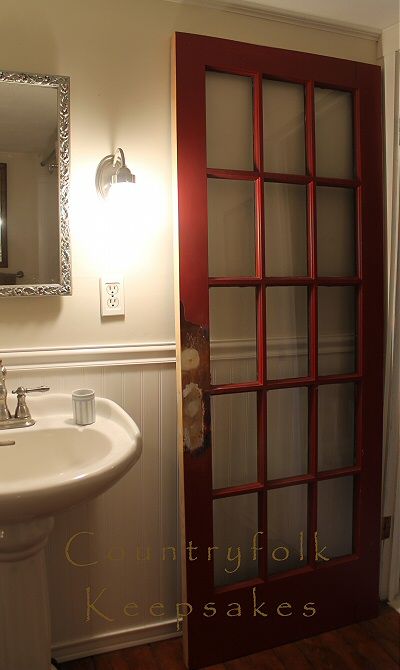 For the record, I do plan on putting a curtain on it. I may be crazy, but I'm also quite modest.((giggle))

Happy Thursday, all!!

:> )