That's a good description when it comes to the way I like to re-decorate.
For instance when most folks paint a room, they'll keep it that color for 10 years or longer. Not me.

I painted my 1776 peninsula back in 2010 and I am ready for change. Ummm... I really don't like to use the word "change" so I'll use the words "something different."
I am ready for something different.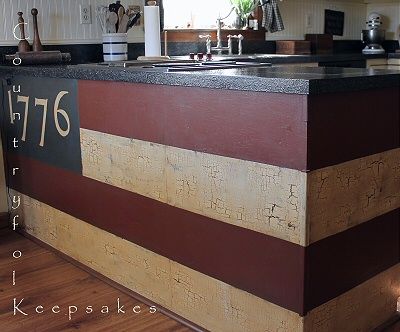 My hubs really wants me to keep it. So I've decided to meet him halfway. Well kind of.
I want to cover it with beadboard. But I won't glue it on, I'll nail it on.

This way when I'm long gone and someone else lives in this old farmhouse, they may decide to remove the beadboard and they'll discover my art.

But my guess is with the direction our country is being "nudged" in, they'll probably say, "1776?? What happened that year???"

That's when I will roll over in my grave and I will come back and haunt them.




I've also decided to repaint the red (closet and back)doors. I want to go with a brighter red. Actually, I plan to use the exact red I painted our French doors.

As you can see, I tortured my sweet hubs with my nuttiness by making him take a French door off it's hinges and bring it into the kitchen so I could see how the color would look.




Awning Red by Behr. It's not too bright. Not too dull. It's juuuuuust right.

Note to self: Next time remember to wipe down the French doors before photographing.


Oh and I'm also making room for the dry sink I don't have... yet.
Which is why I removed the gossip bench and put this console in its place. The dry sink I don't have yet will go on the other side of the kitchen.

I removed it because quite frankly, we never used it. Very impractical. Unlike this console which will be used strictly for decoration. ((giggle))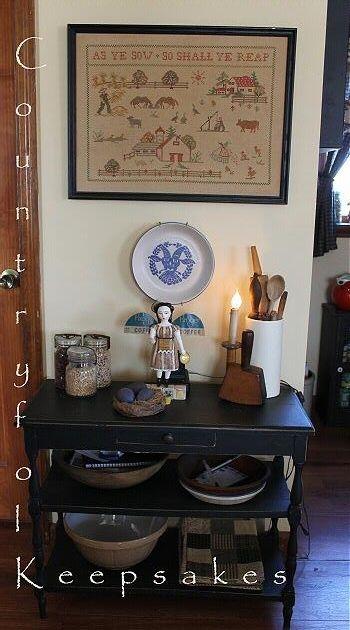 Hmmm. I may have to paint the dry sink I don't have yet, that same red and antique/distress it.

See. I told you I am nuttier than a squirrel turd.

Happy Sunday!

:> )