I always seem to pick the hottest day of the year to do home improvements.

Also, I've never removed bi-fold doors or put them up for that matter. Let me just say whoever invented them, should be killed.
Ooops! Did I type that out loud?
Trust me. If and when you ever have to remove them, you'll understand that statement.
Relax, NSA. That was just a joke. ;> )

So after watching a YouTube video on how to remove bi-fold doors (bless you, kind man who made that), I wrestled them off.

Next, I got my two most important "tools" I need when it comes to any home improvement job I try to tackle.

Coffee and a chocolate chip cookie.




Did you know there are so many uses for a free standing butcher block other than chopping veggies?

It's true!

For example, using it to wallpaper bi-fold doors.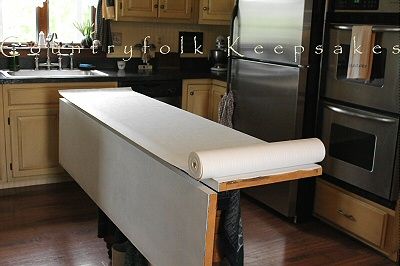 Everyone must own a quilter's ruler! They come in handy! No, you don't have to be a quilter to own one.
As far as I know there's no executive order making it mandatory... yet.
But I digress.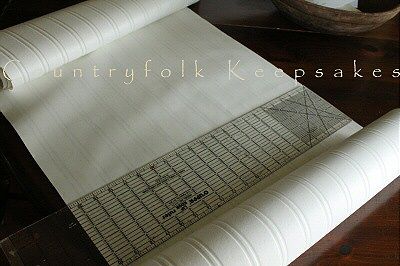 Done!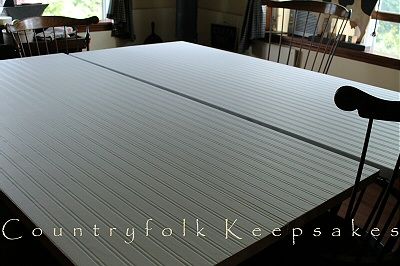 Next step, paint them. I painted them the same color as the beadboard backsplash I did in my kitchen.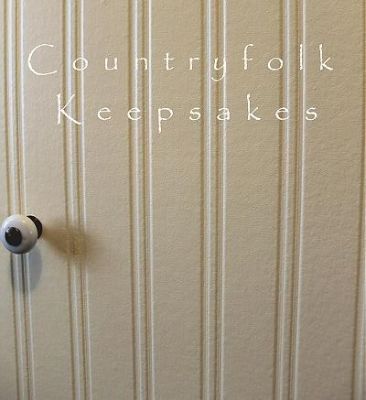 Unfortunately the doors can't go back up yet. Silly me didn't realize that little bit of added thickness now doesn't make the doors close properly. Yet another reason why I'm not a carpenter.
I'll need to adjust wood trim so they will. But I'll do it in a few days. I need a break from wrestling with those @#$@% doors again.

Besides, I need to order some decorative strap hinges.
I did try to paint faux hinges.
I have one word to describe the outcome.
----> YIKES!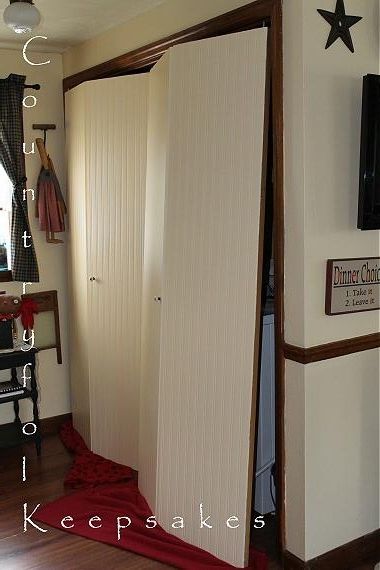 So here's my opinion on the beadboard wallpaper.

First of all, I do love it!
But it's very spongy and has the potential of showing marks and dents. My Seinfeld "man hands" can attest to that.
Personally, I wouldn't use it in a high traffic area. Unless you like marks and dents.
Or you can Saran Wrap your husband, children, grandchildren and pets before they walk by it.

Because of the texture, it creates lots of air bubbles. Ugh. That's where most of my time was spent. Well that and trying to remove the doors.

Bottom line: For only $19.99 + tax, I turned my hideous, cheap bi-fold doors into more attractive looking bi-fold doors.
It was well worth it!!

Finally, with the heat and humidity wave we had, I've been unable to create. (The paint wouldn't dry on my pieces)

I need to get back to work, so I will be scarce for a while.

But I promise I'll show pics of my doors when they're complete.

Happy Monday, All!!!

UPDATE: Click here to see them finished!

:> )