I do not know how to cut crown molding. Nope. Haven't a clue.

I thought I would surprise my sweet hubs and have it all done when he got home from work.

My first cut... Ooops.
My second cut... Uh-oh.
My third cut... Crap!
My fourth cut... #$%@&*!!!!

That's when I decided to stop and jump on the internet before I ruined anymore trim.

Who knew there's a certain way to cut crown molding??!!
You have to cut it upside down and at an angle.
Forget it! I can't stand on my head for that long. ((giggle))

So I decided to do some sewing instead. That's much safer.
I can't believe I haven't created anything in almost two months!
I'm working on something that will make everyone hoppy, warm and fuzzy.

After all that, I was thrilled to see my buffalo check fabric for my bathroom curtain finally arrived today!! YaY!!
Man, this large check is so hard to find!
I had to buy upholstery fabric. But it's lightweight enough to work for curtain fabric.

I crammed it in the window just to show how pretty it will look.
See!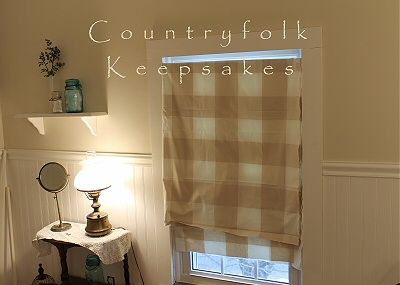 The lighting makes everything look tan. But it's a linen color.

Hopefully in the next 48 hours we'll get the crown molding up, install the new toilet and sink.

I promise to post more photos as we finish up this project.

Happy Friday, everyone!!!

:> )